As we approach a new year, it becomes time to reflect on the past year's success, but equally now is an ideal opportunity to plan for the future, and how your leisure business will adapt to changing times. With a shift in customer needs, an influx of new fitness tech and a suite of tools that can help improve your business, both for customers and employees, there has been no better time to embrace a digital future for leisure businesses.
What does the term "Digital Future" mean?
The term "digital future" refers to the upcoming changes that we expect to see in society, where the way we live will be dominated by digital technologies, information and communication channels.
This change is one that many see as inevitable, and we now see that we are already living these changes. Our lives have drastically shifted to being digital-first, in almost all areas of our lives. This applies to how we shop, do our banking, and now, pay for parking.
What the Digital Futures report covers
In August of 2021 the company called ukactive launched the "Digital Futures" programme in partnership with Sport England. The programme was designed to support the leisure industry in its transition to a digital future, offer guidance on how to adopt digital solutions that will both enhance guest experiences and add value to leisure business owners and operators.
Pre-pandemic there was a gradual and rather steady uptake by leisure businesses of technology to plan, deliver and manage their offering, but it was throughout the pandemic that many leisure businesses witnessed the explosion of digital solutions in the fitness and leisure space.
From mindfulness apps to home workouts and the boom of brands such as Peleton, the leisure industry was about to be shaken up, and it is post pandemic that they had to quickly adapt to the new expectations set for how they deliver their service.
The report scored operators on their adoption of digital technologies, surveying 44 different organisations, representing 1,300 individual sites across the UK. They then allocated a score, represented in a percentile between 0 – 100% to represent their digital adoption level.
What they found was that, in the Uk none of the major organisations scored less than 20%, which would have labelled them as "Digitally Behind" meaning they are not ready to meet the demands and expectations of the digital world. The average score for the organisations surveyed was 55%, putting the sector at Digital Experimenter level, showing they are making great progress forward but missing the investment, goal alignment and accelerated advancement to yield a strong performance for all operators. A surprising find was that only one ranked as a Digital Leader (80% or more). When surveyed, this private operator acknowledged that "everyone in the sector has room for improvement".
What does this mean for your leisure business?
There is room to grow and take market share, becoming a true leader and outlier in a busy sector, by adopting digital technologies for leisure businesses.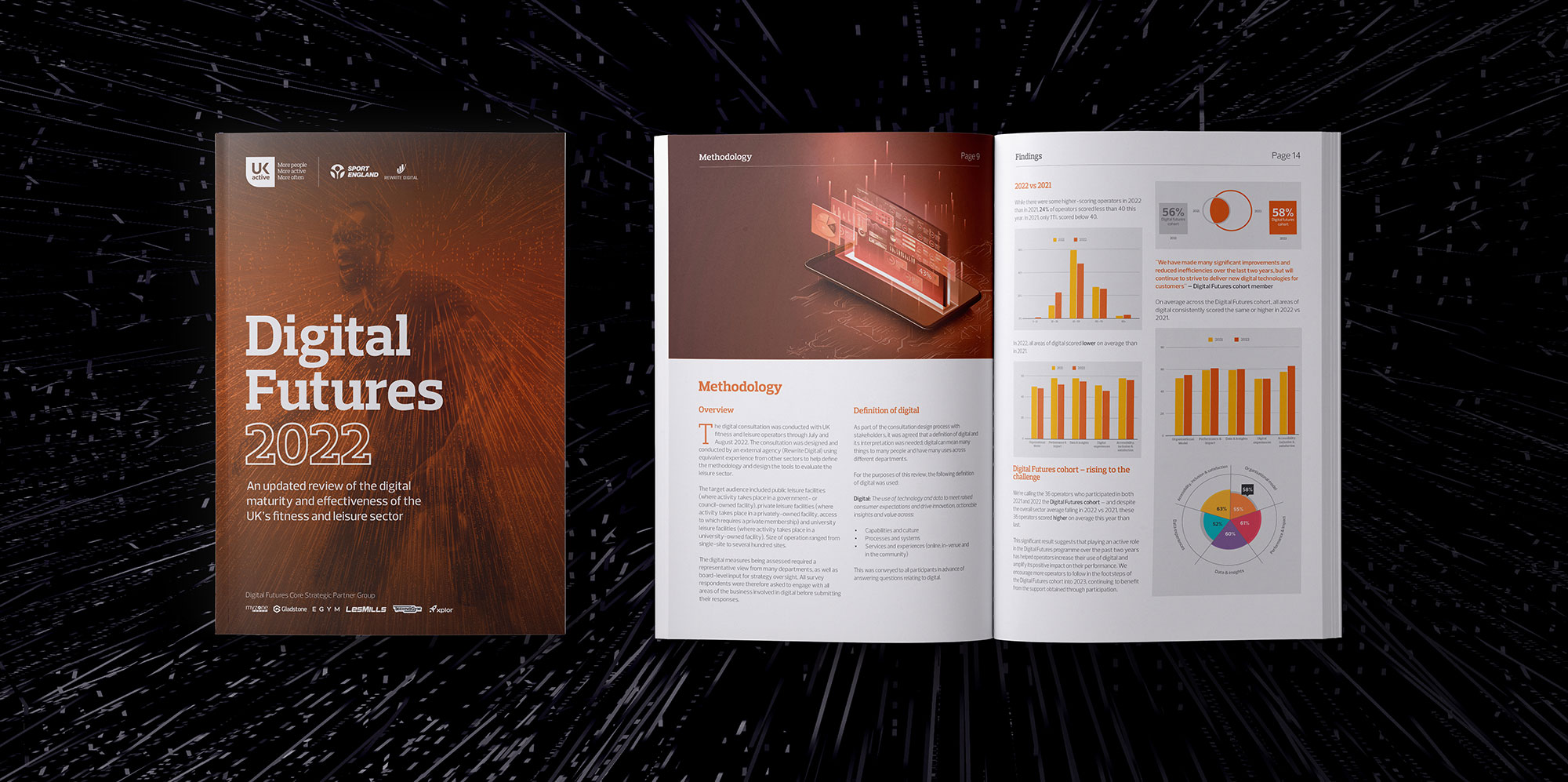 6 Technologies that Leisure Businesses can Adopt
We thought we would help by providing 6 actionable and relatively easy to implement technologies for any businesses. These are by no mean revolutionary, but can be the foundations of the digital future of your leisure business.
Digital membership systems
Digital membership systems should sit at the core of any digitisation plans for leisure businesses. Having a way to manage, maintain and verify members through digital systems is imperative.
Gone are the days of membership cards, with many customers now keeping all of their debit, credit, loyalty and membership cards hosted within their e-wallets.
Integration with Health Tracking
Throughout lockdown we saw a large uptake of wearable tracking devices. From apple watches to fitbits, to subscription based wearable tracking software – the market continues to grow.
The question now, is how can your leisure facility integrate with these tracking devices? We have seen high intensity interval workout sessions that show live leaderboards of how hard attendees are working.
Smart Exercise Equipment
Smart tech has made it way into the exercise equipment itself, with some technology that would have seemed far-fetched and like something out of a sci-fi movie just 10 years ago.
Companies such as Lululemon's Mirror who offer guided courses through a digital mirror, NordicTrack treadmills with their smart treadmill technology and other companies such as Hydrow are all offering technology based improvements to traditional equipment.
Whilst this may not be the defining change that changed the gym experience, it is often the small gimmicks which helps turn a prospect into a member.
Smart Car Parks
Smart car parks now offer an additional benefit to both leisure club guests and operators alike. Turning what was once a large, single use space, which only served the purpose of simple parking, businesses have now begun adapting their car parks to attract new customers.
Introducing charging hubs not only serves as an incentive for new members to choose your facility, as they can charge as they are in your business, it also generates an additional revenue stream. This revenue not only comes from the charging itself, but also attracts new customers who wouldn't have otherwise visited your business to park.
Automatic entry, exist and permit systems which integrate into your membership system also offers ease of use and added security.
Why not look at how your car park can serve as a community hub, not only for your members, but also for outside visiting motorists?
Hybrid Workouts
One great way of integrating both the online and offline experience is by introducing hybrid workouts. These are instructor-led workouts that instead of requiring an in-person instructor, are instead ran by virtual instructors.
This may not have the impact and motivation of an in-person lesson or class, but will add the possibility of even more classes than possible, with less requirements for high-cost instructors.
Community led digital apps
Leisure businesses can leverage the lower barrier to entry of apps to improve engagement, drive additional revenue and nurture brand loyalty. Brand apps are an excellent tool to grow communities around your leisure business, connecting members through a shared community.
Large travel and hospitality companies have doubled down on the implementation of app solutions, and the leisure industry could take the same direction.
It comes without saying, that this must be a seamless process, that offers true benefits to the end user. There are few things more frustrating than buggy apps and slow loading times, this will become even more apparent as the world shifts towards 5g adoption, which will do away with the idea of "loading times", making users even more impatient with sluggish technology.
How Can we help?
Our technology can help move your business into the future of parking. From digital payment solutions, online permit systems and automatic number plate recognition, to our partnership with technology providers which turns your car park into a destination within itself.
Source ref: https://www.ukactive.com/wp-content/uploads/2018/05/Digital-Futures-Report.pdf